Automotive Tinting Costs
3 door hatchback from just £100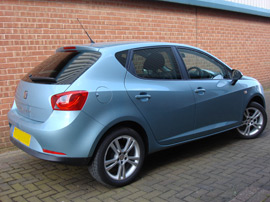 If you've been reluctant in the past to have your windows tinted because of your expectations of high window tinting costs, then now's the time to call us here at Spire Tinting. We offer quality window tinting at affordable prices that will transform your driving experience. Our window tinters use the highest quality LLumar film ensuring your tinted windows will last year after year.
LLumar films feature superior quality construction and comply with international laws and testing standards. Known for their patented scratch-resistant, corrosion-resistant coating, LLumar films are durable and virtually maintenance free. This state-of-the-art technology is unmatched by any other window film manufacturer in the industry. We stand behind LLumar products with a factory-backed warranty.
We can tint the windows of a 3 door hatchback from just £100. So for an affordable solution to the glare of the sun, high temperatures in your vehicle and faded upholstery, come to our team of expert window tinters here at Spire Tinting for cost-effective tinting.
So, if you're looking for an affordable way to make driving a more enjoyable experience and increase the privacy in your vehicle, give us a call today.
Speak to one of our friendly advisors today: 01246 511 226